If you would like to contact us you can use the phone number in the instructor profiles below. Alternatively, you are welcome to come in and talk to our friendly team at our Location.
Professor Philip is the Head Instructor at the dojo and can be found teaching curriculum in both kids and adults classes. He is a professor (teacher/sensei) of Brazilian jiu-jitsu.
---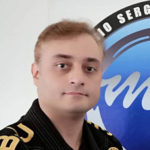 Hamed comes from a multi-cultural background, having travelled to many countries and mingled with people of different beliefs and cultures. He brings a mature and respectful attitude to the Jiu-Jitsu community, with a hint of fun and playfulness on the mats.
He has practised different martial arts over the years; including Jeet Kune Do. He enjoys Jiu-Jitsu now above all for its practical application, discipline, and the kinetic chess that is at the core of the art.
Hamed is always open to answer any questions you have about Jiu-Jitsu to improve your game.
Feby Idrus is the administrator for the dojo. Come see her in the front office for any questions about new enrolments, payment, attendance cards, purchasing uniforms etc — or email at admin@bjjdunedin.nz.